Page 18 - Part F
Model Maniac Home Tour
---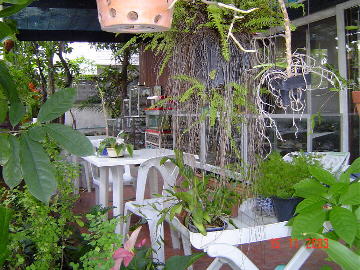 16 November 2003 : Today I proudly present Model Maniac Page 18 - Part F which is a special Part named "Model Maniac Home Tour". This is a continuation of Page 18 - Part E or "Model Maniac Room Tour". If you've seen all pics in my "MM Room Tour" and you thought that was spectacular, I can guarantee that my "MM Home Tour" will be even more so. I hope you will enjoy this Part. Comments and suggestions are welcome in my Model Maniac Forum

---
Thai Version

16 พฤศจิกายน 2003 : วันนี้ผมภูมิใจเสนอ โมเดล เมเนียค เพจ 18 พาร์ท เอฟ ซึ่งเป็นพาร์ทพิเศษ ชื่อว่า "นำเที่ยวบ้านโมเดล เมเนียค" นี่เป็นตอนต่อจาก เพจ 18 พาร์ท อี หรือ "นำเที่ยวห้องโมเดล เมเนียค" หากท่านได้เห็นภาพทั้งหมดใน "นำเที่ยวห้องโมเดล เมเนียค" และท่านคิดว่ามันเป็นสิ่งที่ตื่นตาตื่นใจละก็ ผมรับประกันได้ว่า "นำเที่ยวบ้านโมเดล เมเนียค" จะตื่นตาตื่นใจยิ่งไปกว่านั้นแน่นอน ผมหวังว่าท่านจะเพลิดเพลินกับพาร์ทนี้! หากท่านมีความคิดเห็น หรือข้อเสนอแนะใดๆ ก็เชิญฝากข้อความใน Model Maniac Forum ได้เลยนะครับ
---
249 - 254 : Additional Pictures for Model Maniac Room Tour
There were some models left over from inside my room, so let's start with them first!











301 - 308 : Model Maniac Home Tour : A Brief Look Around the House
OK, now you're inside my house from the East Gate. The array of display cases is located at the Eastern part of my house. You can see that we have a lovely terrace full of decorating plants. ('We' means my mother, me, my youngest brother, his wife and three sons, a maid servant and two dogs). There is some vacant space at the back (Southern part) of my house which I mean to construct a small, 2-storey 4x5 m. building (each storey = 2.50m high) for storage of my future models & dioramas. The building will bear the name "Military Models Museum". ;-)















309 - 312 : Inside My House
Let's take a break here and go inside my house first. We'll return to this area later to take a closer look at all the display cases. Before going inside, let's see my personal vehicle - a Honda MTX-125 with riding gears parking at the front of the North Gate, key in hole, ready to roam. My mother's house - though over 30 years old - is rather stylish. It makes use of natural light through a transparent copula at the middle of the house. And though only one storey, it has three levels, i.e., ground level, upper level and semi-underground level. You'll see the staircases up to my room on the right hand side. If you turn left you'll find our comfort room which shares a wall with my room. Inside it you'll find the Yamato 1:350 - the world largest battleship with biggest guns (18.1" compared to 16" of the American and German WWII battleships) and three modern submarines in the same scale - one of which is the world's largest submarine named Typhoon.








313 - 322 : My Computer Room
Now let's go down to see my computer room, a 2x2.5 m room on the lowest level. I'll show the way down to the room, and what I have in there. You'll see two PCs running. The One on the left is my legendary 16 years old and still living BBS system named FALCON BBS (FALCON is the nickname of F-16 - my favorite fighter plane), running FrontDoor 2.02 on DOS 6.22, waiting for human or mailer calls. The other is for me to upload files to the Net and to surf the Web at home.The room is only 1.80 m. high, so if you're 6' high you'll have to bow your head when entering it. You'll see a display case inside the room with M-41 1:15, Gepard 1:16, Tiger I 1:15 and some 1:16 figures, plus some 1:25 tanks. Outside the room a B-52G 1:72 is hanging with an F-18 as escort. On the right side of the way up, there is the Tirpitz 1:350, a SSBN 'Andrew Jackson' 1:200 showing interia details, a Willis Jeep 1:24. On the left side there are two 1:350 frigates namely Ticon Deroga and Bunker Hill, plus a German WWII submarine type XXI 1:350



















323 - 374 : Back to the Outside for Closer Look
OK, now we're back at the outside to take a closer look at each display case and its contents, diorama by diorama!. BTW, a friend at Digitaldioramas.com's Forum asked about the camouflaged 'Huey' inside my room, so I took it outside and take two shots, to show that the 'Huey' (Italeri's UH-1N 1:48) is also a beauty.



































































































How about that?. I hope you're impressed with the tour!. The packaged tour ends here. Welcome again any time!.
---
Counter : With the introduction of this Part, the total number of pictures of all Pages = 2,020
---
Closer Look of MM Room & Home Tour
Model Maniac Room Tour
Main Page
Model Maniac Puzzle Games
Model Maniac Zoom & Pan Diorama Gallery
Model Maniac Menu
Model Maniac Content-Based Menu