Page 18 - Part J
Military Models Museum - The Day After
---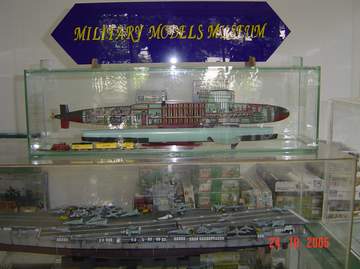 25 October 2005 : Today I proudly present Model Maniac Page 18 - Part J showing pictures taken the day after the opening ceremony of my Military Models Museum. Not much people joined the ceremony but all of them were impressed with the beauty, diversity and quantity of models in my collection. My Panther 1:8 4-channel RC Tank has been repainted and moved to the show room, along with all my big scale (1:15 & 1:16) armors and some 1:16 figures. I hope you'll enjoy viewing! Comments and suggestions are welcome in my Model Maniac Forum

---
Thai Version

25 ตุลาคม 2548 : วันนี้ผมภูมิใจเสนอ โมเดล เมเนียค เพจ 18 พาร์ท เจ ซึ่งแสดงภาพที่ถ่ายหนึ่งวันหลังจากงานเปิดตัว พิพิธภัณฑ์โมเดลแนวทหาร ของผม คนจำนวนไม่มากนักเข้าร่วมงาน แต่ทุกคนก็ประทับใจกับความงาม ความหลากหลาย และปริมาณของโมเดลในคอลเล็คชั่นของผม รถถังแพนเธ่อร์ 1:8 บังคับวิทยุสี่ช่องของผมได้รับการทำสีใหม่ และย้ายไป อยู่ในโชว์รูมแล้ว รวมทั้งยุทธยานยนต์สเกลใหญ่ (1:15 & 1:16) และตัวทหาร 1:16 จำนวนหนึ่ง ผมหวังว่าท่านคงจะ เพลิดเพลินกับการชม! หากท่านมีความคิดเห็น หรือข้อเสนอแนะใดๆ ก็เชิญฝากข้อความใน Model Maniac Forum ได้เลยนะครับ
---
001 - 010 : The Opening Day of my Military Models Museum. Thanks to Khun Jirasak Malaengpoothong & spouse who kindly gave me beautiful flowers in a vase. These first ten pics were taken by his camera.




















100 - 141 : The Day After. The Central Part of my Military Models Museum is this Show Room


















































































142 - 143 : At the Side of my House, some armors have been moved out but most dio's remain intact



144 - 202 : My Room. Some armors and dio's have been moved out to the show room, but due to former density in each display case, most display cases still look occupied. There are 22 display cases in this room, none is empty.


















































































































While editing this page, I realize that it covers only armors & dioramas. So this page will be updated soon to show the warplanes and warships in my show room (shown before but at low-resolution), and a closer look at the side of my house.
---
29 October 2005 : Today I took 120+ more pictures of models & dioramas in my collection so as to make the on-line version of my museum (I mean this page) as complete as possible.

In The Showroom
301 - 306 : Big Warplanes 1:32












307 - 311 : Medium Warplanes 1:48










312 - 323 : Standard scale Warplanes 1:72























324 - 327 : More on 1:16 Armors








328 - 338 : Warships 1:200, 1:350, 1:144 and 1:72



















339 - 351 : More on Armors & Dioramas 1:35

























At the Side of My House
352 - 415 : There are 11 big & small display cases at this spot. Next to this spot towards the back of my house there are two new 1.20 m long teak-framed, aluminum-wrapped display cases which are empty (same as the other six in the showroom). I acquired them for future use (not shown here).






























































































































In my Room
416 - 417 : There are 10 Hummers on this shelf.




418 - 419 : This is my first display case dated back nearly 40 years. There are 44 tanks on this shelf (22 Allies' and 22 Axis') mostly from Esci and I built them myself.



420 - 422 : Leopold, Morser Karl on railway transport, and mini dio in 1:72 scale






While taking pictures, two new warplanes arrived at the showroom and my collection grew bigger.
423 - 425 : Roden's An-12 BK 1:72 (plastic resin) - by Chakraphad.






426 - 427 : Monogram B-52H 1:72 Vietnam - by Chakraphad. It'll stay right here.




---
How about that? I hope you enjoy viewing my collection!. Most pictures were taken using flash and the flesh tone (of models or human) appear darker than real life. This is to say that either the CCD of the digital camera could not capture the true color or the flash was too weak. The models & dioramas look better if viewed in person, so welcome to my museum some day!
---
Counter : With the introduction of this Part, the total number of pictures of all Pages = 3,714
---
Main Page
Model Maniac Puzzle Games
Model Maniac Zoom & Pan Diorama Gallery
Model Maniac Menu
Model Maniac Content-Based Menu