Page 33 - Part E
Model Maniac Own Works
---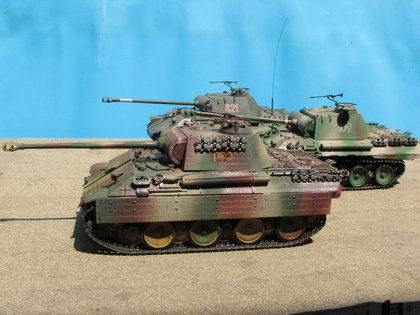 17 March 2007 : Some times I got the question "Why don't you do it yourself?" and the last time I got an idea why don't I take pictures of my own works and show them to the world that I have built hundreds of them myself - from Space Shuttle to Yamato 1:350. This special page is an attempt to show pictures of ALL the kits that I have built in the past using paint brush, spray can and airbrush depending on the time of build. They're something you have never seen before. They're like forgotten pieces in my collection, I had to remove dust from them before taking pictures. They must be glad they are being viewed this time. Please be patient looking at them because beauty or realism is something rare here. During the years my modeling skills have barely improved or developed, I just don't have the gift in modeling nor much patience. That's why I need some talented modelers to build them for me. I want my collection to look better and to have some appealing pieces. In terms of armors and dioramas, "Art Instructor" is the last answer to my quest.
---
















---
End of Part I
I don't know how many parts this will take. I wonder how many people would like to see more of my works, probably not much. I've just covered about half of 1:35 armors that I built myself. I'll cover the second half tomorrow. Out of batteries and too tired today!
---
18 March 2007 : Today I took more pictures. It took about five hours altogether which included the time to clean the models with brush and to repair the broken parts resulting from cleaning. I feel a little exhausted. But now I have covered all the 1:35 armors and dioramas that I built myself. I may not take pictures of the 1:72 armors & dio's and warplanes & warships that I built because they are even uglier than armors. Better go forward with my normal page. Now I have 9 more finished kits & dio's from Tuk and Joh waiting for photography - more than enough for a new page. I hope you enjoy viewing!
---
















---
Main Page
Model Maniac Puzzle Games
Model Maniac Zoom & Pan Diorama Gallery
Model Maniac Menu
Model Maniac Content-based Menu