Page 18 - Part H
An Update of Model Maniac Room & Home Tour
---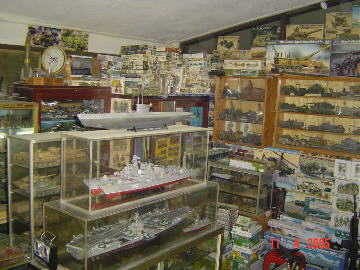 12 April 2005 : Today I proudly present Model Maniac Page 18 - Part H which is an update of Model Maniac Room & Home Tour. I hope you'll enjoy viewing!. Comments and suggestions are welcome in my Model Maniac Forum

---
Thai Version

12 เมษายน 2548 : วันนี้ผมภูมิใจเสนอ โมเดล เมเนียค เพจ 18 พาร์ท เอ็ช ซึ่งเป็นการอัพเดทการนำเที่ยวห้องและบ้านของผม ผมหวังว่าท่านคงจะเพลิดเพลินกับการชม! หากท่านมีความคิดเห็น หรือข้อเสนอแนะใดๆ ก็เชิญฝากข้อความใน Model Maniac Forum ได้เลยนะครับ
---
001- 004 : Re-stocking in March 2005. Not including CV-10 and behind that. The two piles at the left were bought from local hobby shops, the two piles at the right were bought thru the Net.








005 - 006 : The Only Space Left in my room.




007 : New Showcase at the Back of my house. There used to be only one showcase (150cm 4-storey) at the back of my house. Now there are two.



008 - 012 : The New Showcase and Its Contents.









013 - 015 : Some Showcases at the Side of my house. The diorama in 016 now sports a whole new set of railcars. Contents in most of these showcases have changed.







017 : The Computer Room - Now the computer desk is used to host my 1:6 figure collection. Before the time of PC (I bought my first in 1986), this room used to be my diorama room where the diorama base covered all the 2x2.5m space. Now the tide has turned, all PCs are gone.



018 : Excess PCs - FALCON BBS, a free dial-up on-line service which started on March 6, 1988 and died down late last year due to hardware failure, is now history. Another PC is also not needed anymore. I used 10" LCD PC 266MHz 64MB RAM 4.3GB HD, 1 USB port, now with an external CD-RW 52x32x52 most of the time at home (except for surfing the Web).



019 - 023 : Inside the Computer Room - Apart from housing my 1:6 collection, this room is used to store empty boxes and a showcase containing 1:15 and 1:16 armors/figures and 1:25 armors. There are more 1:16 figures, including tank crews for Tamiya's 1:16 Gepard RC steel-track AA tank.










024 - 025 : Now Back to my Bedroom - The only space left mentioned in 005-006 above is now filled with my newest showcase. It's an aluminum/glass showcase 60cm wide, 30cm deep and 100cm high with mirror at the back side and two halogen down lights (one is missing here). It has five storeys whose height are adjustable.




026 - 031 : Look Around my Bedroom - There is a maze and a mess in here. Space and passage way are rere things in this room. Someone once wondered how my bed fits in this room. I think most everything fits nicely in this room. ;-)











Updated 16 May 2005 :
040 - 041 : New Acrylic Case holding Kuznetzov 1:350




042 - 044 : New Showcase with some models






045 - 046 : In this showcase now there is a Karl Morser in front of the Leopold




047 : This showcase now holds two more bikes - the US's Harley Davidson and British Triumph


050 - 051 : New Diorama materials in stock, mostly imported from Ukraine




How about that?. I hope you enjoyed this update! There'll be more update in the future.
---
Model Maniac Room Tour
Model Maniac Home Tour
A Closer Look At MM Room & Home Tour
Main Page
Model Maniac Puzzle Games
Model Maniac Zoom & Pan Diorama Gallery
Model Maniac Menu
Model Maniac Content-Based Menu